Title:
Makeshift Miracle
Author:
Jim Zub
,
Shun Hong Chan
Series:
Makeshift Miracle #1
Publisher:
Udon Entertainment
First Published:
June 5, 2012
Pages:
120
Genres:
Coming of Age
,
Fantasy
Format:
Hardcover
Source:
Library
Rating:
★★

Synopsis:
A young boy named Colby Reynolds searches for meaning in the world around him and discovers a place where dreams can come true ― if he's willing to pay the price! Along the way he'll see sights he's never fathomed and encounter hidden truths about himself he'll wish he never knew.
The hit online comic is now a beautiful, high-quality hardcover graphic novel, perfect for teen readers and manga fans with a durable, library-quality binding.
Rating Breakdown:
Volume 1: ★★☆☆☆
Volume 2: ★★☆☆☆
---
My Review: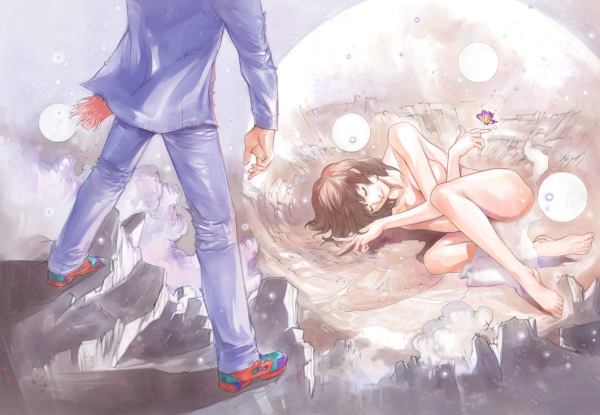 This comic was a little bit difficult for me to decide what I thought about it. I was really digging the first few chapters and the illustrations are absolutely gorgeous. I loved how the main characters were the only colored parts of the panel, it made for really striking visuals. As the first volume wore on, however, I started to wonder where the plot was going. There were characters introduced and a few events, but nothing of substance was really happening.
There was a convenient amnesia plot which is a trope that I really dislike because the entire plot is withheld intentionally. I hoped for more answers from the second plot and it quickly became a bore waiting for some answers to finally be given to the reader. There are chases and a little bit of action but everything felt rushed. Characters are taken out just as quickly as they are introduced, somehow an important piece of the plot but readers are never given any real time to care about them or their fates. There is little to no development of the plot or its characters at all.
Things pick up at the end when the antagonist basically tells the main characters the big secret around the amnesia plot, which again, goes back to why I don't like these sorts of stories to begin with. Nothing makes sense until the big reveal which means that the plot will be weak without it. While I liked the revelations at the end, it was so out of left field it didn't have a strong impact. I just wish that the plot could have been fleshed out better and more attention could have been paid to the characters to make me care about them more. There's a romance but it makes no sense and I couldn't really feel it.
The quality and detail in the art also went down in the second volume as compared to the first which just added to the feeling that this series was a little rushed. I did like the central message about dreams, desires, and aspirations, even if it wasn't developed well. It's a very good message about how dreams can be both good and bad and how easy it is to hold yourself back with fear. I just wish this story could have been executed better because it had a lot of potential.
"I won't say I'm not nervous… Because I am. Nervous about growing up and taking hold of the things I want out of life."
---
Trigger Warning: Nudity
---