Also by this author: Inside Mari, Sweet Poolside, Welcome Back Alice
Warnings: Violence, Bullying, Homophobia
---
My Thoughts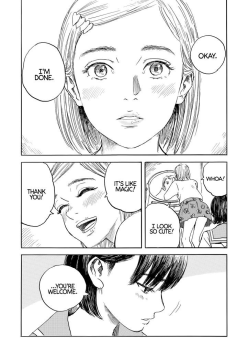 This little one-shot had so much to say in just one chapter, the story felt like a hard slap. I didn't expect to have my heart crushed in such a short number of pages. Things start in the same way that many transgender stories in fiction do, a girl meets a cute boy and helps him find himself. The two become close over their shared secret, she comes to his defense when he is bullied. It's a step away from the fetishized M/M fiction written by cis women.
"I'll just have to make you look even cuter."
Transgender youths are targets of increased physical, sexual, and verbal abuse by family and peers, a sad reality that should never be ignored. Kashiwabara is bullied at school, he likes dressing as a girl and he admires his neighbor Onaga, who also takes an interest in him. While I struggled with one particularly violent scene near the end, the cold reality that "this isn't abnormal" washed over me and it was a bitter truth to swallow.
The stigma of being a transgender woman and the lack of safety is keenly felt. What appears like a heartwarming ending left me feeling chilled, abusers are abusers no matter what mask they wear. I really admire how Shuzo Oshimi highlights the ugly side of youth with his stories. His stories are filled with imperfect people living difficult, imperfect lives, but there is something haunting and beautiful about his work.
---
Rating:
---