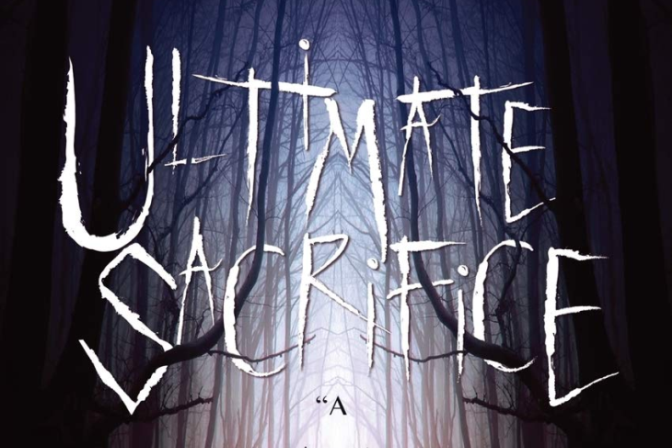 ---
My Thoughts
A small town and a grisly ritualistic murder followed by whispers of a prophecy and sacrifice – the prospect of this book is terrifying. Ultimate Sacrifice is a young adult novel about a teen girl that finds herself and her family in the middle of a murder investigation with some horrifying implications. The book begins at a running start and keeps up a fast pace for the entirety of the book.
I could sympathize with Vickie and the stress of having her family flooded with hatred and negative press, the pressure of suddenly being in the spotlight, and suspected of the most heinous crime imaginable. I liked that the book showed realistically what something like this can do to a family and to a person's sense of personal safety, making them question everyone and everything around them.
"How is it possible that any of this even exists and that I'm halfway convinced that it does?"
The hints at a cult in their small town were also seriously creepy, and the more that Vickie dug around the more uneasy I felt at what she was finding. It reminded me of the old slasher films I grew up watching from the 60s, 70s, and 80s with how weird and uncomfortable the town and its inhabitants were. The story definitely takes on a dark and disturbing tone and it only gets worse and worse, but I loved every minute of it.
Now the version that I had was riddled with errors, missing words or ones that I can only assume were auto-corrected and it was a bit off-putting. I was given a copy for a blog tour a few weeks before release, so I can only hope that it has been corrected for the full version. I also have to acknowledge that it's a tiny bit predictable, but at the same time I kept telling myself that it couldn't be what I suspected, I didn't want it to be, so it did a good job of filling me with dread and making me feel invested in the story and characters.
This has got to be one of the fastest most fun reads I've had in a while. I enjoyed myself thoroughly despite mild issues, and while it deals in some pretty gruesome topics I think it's a decent horror thriller for a young adult audience. It's perfect for the Halloween season and I strongly recommend it.
---
Warnings: disturbing sex scene, death
---