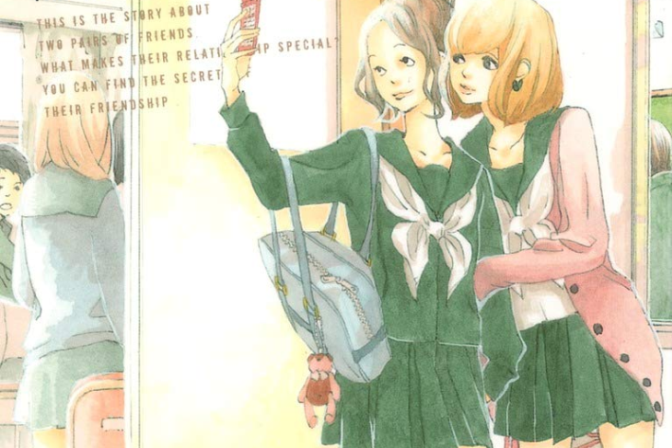 Also by this author: High School Debut, My Love Story!!, Sensei!
---
My Thoughts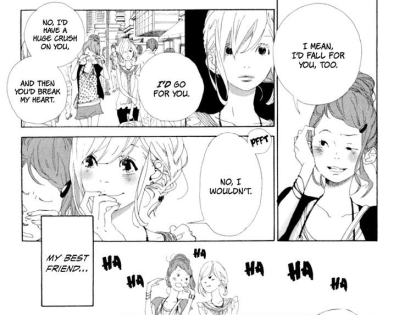 Maintaining a friendship after entering a new relationship with a boyfriend or girlfriend is one of those tricky things to navigate, especially if your best friend is single. It is not uncommon in both manga and in reality for friends to slowly drift apart as more time is invested in the new relationship. The single best friend becomes a third wheel, and can sometimes end up feeling lonely or abandoned by their friend, it becomes something of an expectation in friendships. The Secret of Friendship, or Tomodachi no Hanashi, subverts that expectation and presents a strong female friendship that takes priority over a boyfriend.
Eiko and Moe are best friends and there is no one that can come between them. They are complete opposites, Eiko is average but cute in her own way, she's good-natured and has no problem with compromising. Moe is beautiful, strong-willed and outspoken, and she often finds herself facing backlash for being herself. Eiko compliments Moe with her mutability to Moe's fixed nature. Some could say that this power dynamic between friends is toxic and it is brought up, but Eiko and Moe are unbothered and are happy. Moe values her friendship with Eiko, and she knows that Eiko would feel left out if she were to have a boyfriend, so she puts her friend first.
"Finding one true friend was a lot harder than finding one hundred boyfriends."
The story from there is really heartwarming as the girls navigate boyfriends, especially with Moe's rule that any guy she dates has to be considerate of her best friend as well; causing trouble as can be expected. I enjoyed this depiction of a strong female friendship based on a solid foundation of mutual love and a genuine desire for the other person to be happy. I wished that the romantic interests in this story could have been a little better developed, there is a little bullying here which is uncomfortable. But overall it was pretty sweet and the friendship is the highlight here.
The bonus chapter, Sonokare, Shira Bemasu was beautifully drawn and had swoon-worthy main characters, but the short was only okay. You don't get any real sense of chemistry between them. It's a silly short about spying on a friend's cheating boyfriend, and there is some commentary about relationships but altogether the story is pretty forgettable, especially right after reading the main story.
---