---
My Thoughts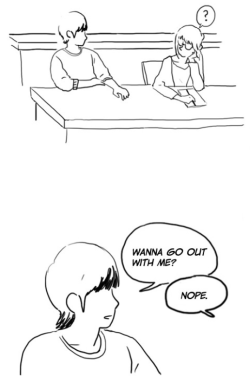 I didn't expect to get dragged so deep into this story. The Girl from Class caught my eye with its simple line art and minimal use of color. It's a slice of life drama manhwa about a guy that gets a crush on a girl from his class. I wasn't sure what kind of love story this would be when I started, but it was one that explores themes about the relationships that happen so naturally with life, we don't even notice.
"Don't do this… to someone that you aren't serious about."
The comic draws comparisons to the Greek tragedy of Orpheus, a brilliant musician that was loved by many who falls from grace after being heartbroken with the loss of his love. The comparisons aren't immediately clear until further along, and the beauty of the story and its real-world repercussions becomes clear. Despite the simple art style, there is a lot of emotion that can be felt even with such a minimalist style. The characters are nameless and faceless, intentional as they are all true to life stand-in's and many people can probably find themselves in the place of one of the characters.
This story was also a cautionary tale not only to be more sensitive to other people's feelings, to not take love advice from other people, and for goodness sake treat the person that you're interested in kindly. Your feelings will be obscured to the object of your affection if you're rude. I really enjoyed this little comic, it surprised me how much depth and consideration was put into the development of the story, and despite it all, I felt satisfied when it was finished.
---