Also by this author: Pre Mari, Loco Moko, Peach Girl
Warnings: Violence, Gaslighting, Grooming
---
My Thoughts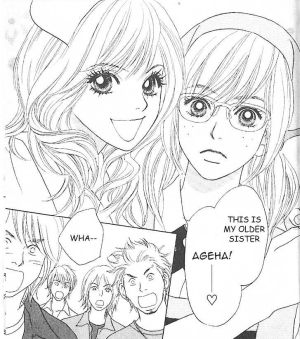 What a disaster, a downright sloppy mess with an awful plot and annoying characters. Papillon is a drama filled teen romance manga about competing twins that tries to dig into some touchy subjects like insecurity, childhood abandonment, post-partum depression, and traumatic loss.
Ageha is a quiet and shy country girl that feels that she is undesirable next to her beautiful and popular city girl twin sister, Hana. The first few volumes of the manga deal with the twins butting heads over boys. Hana feels left out if she doesn't receive the same love and affection that her sister does. She reminded me of a toned-down version of Sae from Peach Girl but Hana at least has a backstory to explain the reasons for her garbage actions.
The plotlines are paper-thin and barely have any real development. All of the love interests don't feel genuine and begin and end quickly. The major romantic interest in counselor Kyuu was troubling. Kyuu is 24 years old and is presented as a legitimate boyfriend for the main character, a high school freshman. He is nine years her senior and is in a position of influence over her as the school counselor. He starts by giving her advice, referring to her as a chrysalis, a pupa that will someday bloom into a beautiful butterfly. He states from the very beginning that he will care for her and help her change. This is troubling, there is no happy message about loving yourself. I can understand the sentiment that if you want something, you put in the work to obtain it and change habits, but that isn't really what is portrayed.
They're a terrible pair, with Kyuu expecting a mature woman that would understand that he's a busy graduate student and works, he can't attend to her every whim and gets tired and stressed quickly. He is also flirtatious and doesn't turn away the advances of other women, and doesn't respect her demands however childish. This leaves the main character feeling insecure and constantly jealous and questioning herself, many readers get annoyed but honestly, this is an understandable way for a teenager to react.
I also took serious issue with the portrayal of counseling in this manga. Obviously, Kyuu was the worst offender, breaking just about every code of ethics about counselor and patient relationships. It is openly stated that he uses love to help students to feel more confident and change themselves and it was honestly upsetting to read. His mentor shows up to also give advice, and when Ageha is stressed over things such as him flirting, it is explained away to her that she can just choose not to be upset about betrayals and choose to be happy instead, and she repeats this to herself several times with every conflict throughout the series.
The entire romance stinks of an older man grooming a teenage girl who is clearly too young to understand adult relationships. This manga wasn't for me and I was really disappointed with the direction that it took. It starts off okay in the beginning but just becomes so toxic that it became boring.
"There's a crossroad. The road that leads to happiness, and the road that leads to otherwise. Whichever way I go depends on me."
Rating: