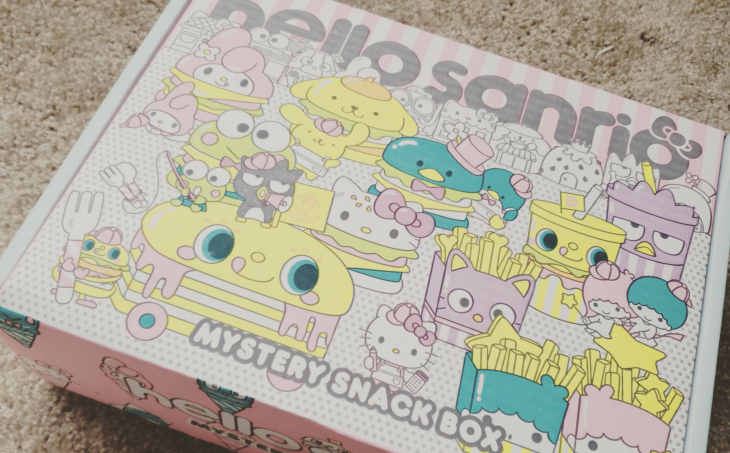 This was a bit of a random pick up while browsing the mall with the family this past weekend. We spotted a display of imported snack boxes in a FYE store and picked this one out because it was Sanrio themed and was the heaviest of the boxes. My husband and I love imported snacks, and this box was around $35, so we decided to give it a try!
What We Got
7 Kit Kat (cranberry & almond)
2 Ramune (original & strawberry)
2 Wafer Cookie Boxes (chocolate & strawberry)
2 Yan Yan Sticks (chocolate & strawberry)
1 Box Lotte Choco Pies (6 pies)
1 Bag Rice Cracker (14 strawberry)
1 ABC Cookies (vanilla shortbread)
1 Yaokin Big Marshmallow
1 Maruta Mini Ramune Bottle (lemon)
1 Yaokin Pandaro (butter cookies)
1 Furuta Dodeka Wafer Bar (chocolate)
1 Yaokin Sweet & Sour Paper Candy (cola)
Thoughts
I LOVE Sanrio and I love snacks! We were really excited and pleased that we got so many snacks in the box, including some Ramune soda! A few of the snacks in here are ones that I have tried before, yan yan and rice crackers were some of my favorite snacks growing up so I was pleased to get a few. However a lot of them are a complete surprise for both of us.
We snacked on a few already, each snack had an English sticker label so we didn't have to guess what each item was. Also included were expiration dates which was helpful for a snack box. Everything was in good shape and packaged well. The choco pies were a bit dry compared to the moonpies I'm used to. I also enjoyed the cranberry and almond kit kats that were included, it's a unique flavor that I wish was available in the west (though I think that can be said about most Japanese kit kat flavors). I shared the vanilla cookies with my young daughter and they were surprisingly heavy on the vanilla, but it was a nice natural flavor that is entirely different from vanilla cookies you typically find in the U.S.
We're quite happy for this box despite being a bit pricey. With the amount of items included I think that it is a pretty decent value considering everything is imported, and it was just cute to have so many Sanrio themed items. This has been one of the better snack boxes that I've tried with treats that were overall pretty enjoyable.
---
Let's Discuss!
Are you a sanrio fan?
Have you ever tried a snack box?
Is this something that you'd enjoy picking up?
---
Where to find it
Hot Topic