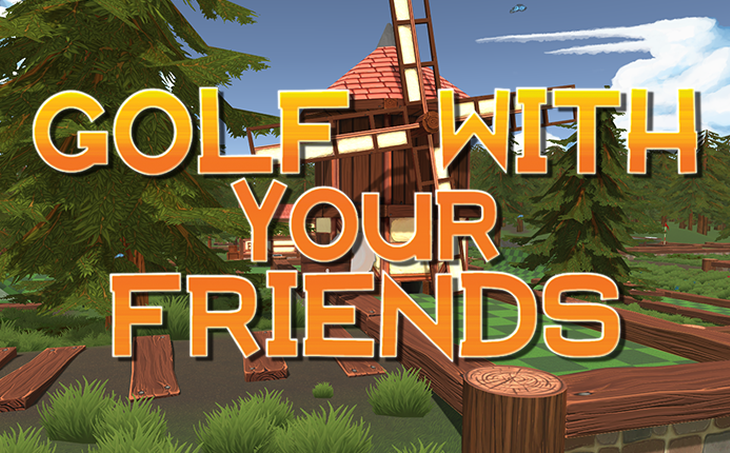 There is no game that is more wholesome and fun quite like mini golf. It is fun to pick a ball in your favorite color and just go at it with friends, it was an activity that I really enjoyed doing in my younger years. This game has consumed my little gaming clan, with regular golf nights where we all just get together and laugh over discord. Even with a competitive group, no one really gets all that angry and nobody really cares if they lose. I've found it to be a nice and relaxing way to hang out with friends, without the stress of dealing with difficult game mechanics.
The game is very straight forward and plays exactly the way you would expect it. You aim your shot, hold down your left mouse button to move the power slider, and shoot! The classic maps that come as a base for the game are all extremely colorful and cleverly designed that play smoothly and have some unique mechanics that can reward creative plays in ways that probably wouldn't be possible in real life putt-putt. There is a nice (timed) free camera that you can use at each hole to get a view of the hole and plan your shots. It is very easy to pick up and learn for all players.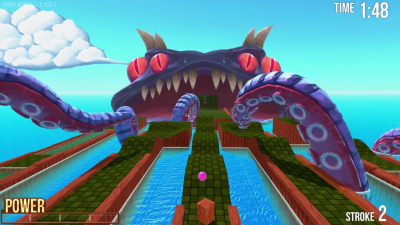 The great thing about this being a computer game is that your ball is customizable! You can use RGB sliders to change the color of your ball to your favorite color (mine is a lovely pastel pink). After playing a number of games you can also get cute little hats for your ball that won't punish you for using them. A unicorn horn, an apple pie, and an army cap are some of the hats that I've seen in this game and they are all extremely cute.
There is also a course builder that players can use to create some truly outstanding and unique maps. There are a plethora that you can choose from that have been submitted by the game's community, though I advise some caution when using these maps with new players, as some of them can be poorly built and end up glitchy, unreasonably punishing, or simply an illogical eye sore. Additionally, there are other modifications that players can make including changing the shape of your ball, or adding effects like low gravity.
It doesn't matter what type of gamer you have in your group either! We have brought in friends that are big into shooters, MMOs, console players, and folks that really just aren't that into video games and everyone was able to have a good time. You have the option to play the game solo as well, though the online support to play with others is where it's really at. Priced under $10, honestly this game is really reasonably priced for a genuinely fun and competitive gaming experience with a group of friends.
---
Let's Discuss!
Do you enjoy mini golf?
Can a game version of mini golf match up to real mini golf?
Even if you aren't a gamer, is this something that you can see yourself playing?
---
Game Information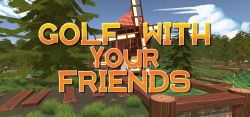 Golf With Your Friends
Publisher: Team17 Digital
Developer: Blacklight Interactive
Release Date: Aug 16, 2019
Genres: Mini Golf
Players: Single player, Multiplayer
Platforms: Steam
Steam